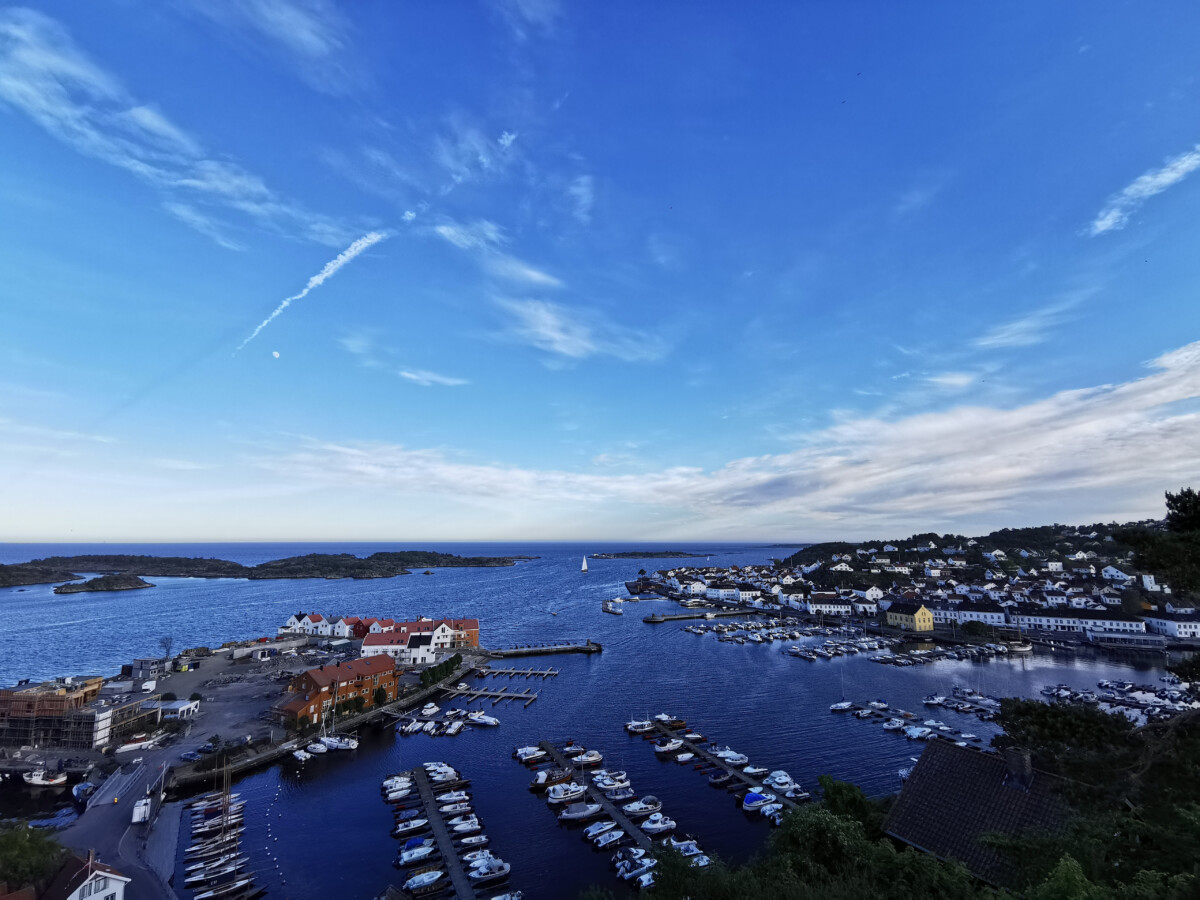 Tour 4 – Southern Norway in a week.
Norway's southern coast is the destination of choice for a laid back seaside holiday. The coastal towns and villages are picture perfect with their white-washed wooden houses and views to islands, skerries and lighthouses. Connecting them are vast sandy beaches that are just a few steps away from the coastal roads you'll meander along during this 10 day fly-drive holiday
bustling oceanfront cities like Stavanger and Kristiansand.
Beautiful light and long beaches. The road between Kristiansand and Stavanger runs along the quiet countryside with magnificent sea views.
Vest-Agder in the very south of Norway (Sørlandet) is home to many lovely coastal cities and towns, including Kristiansand, Mandal, and Flekkefjord. Mandal is Norway's southernmost town and while it's not exactly a hidden gem, it's nowhere near as crowded as the fjords in the summer. The town itself has colorful wooden houses along the water and a cute little center with cobblestone streets, and outside of town you'll find an 800 meter-long beach, Sjøsanden. If you can brave the cold waters you can go swimming!
It's about a 40 minute drive from Kristiansand and 2 hours and 45 minutes from Stavanger, so quite easily accessible.
I think this area of Norway is nicest in the summertime and early autumn, when it's sunny and warm and you can enjoy being outside and even going swimming.
The road along the coast of Jæren follows a beautiful, tranquil countryside with long beaches. We have suggested the route farthest towards the coastline because of its beauty. Here you will find cultural landscapes with large lush meadows, ancient stone walls and grazing cows. Further south you will find small hilly coastal mountains and picturesque villages.
The itinerary of this round trip takes you to Oslo, the Southern coast of Norway, Stavanger, a hike to the pulpit rock, Preikestolen, and a glimpse of the mountainous Telemark.
Your itinerary:
Day 1: Oslo
Day 2: Oslo to Risør (234 km, 4 hours)
Day 3: Risør to Kristiansand (116 km, 2 hours)
Day 4: Kristiansand to Stavanger (255 km, 4 hours)
Day 5: Stavanger
Day 6: Lysefjord and Preikestolen. Drive to Dalen (120 km, 2 hours)
Day 7: Telemark and back to Oslo (231 km, 4 hours)
Day 1: Oslo
Spend the day in Oslo, and make the most of the many museums, galleries, shops and restaurants the Norwegian capital has to offer. Recommended attractions include the Akershus Fortress, guarding the entrance to the harbour; Vigeland's Park and its 212 sculptures, and City Hall's richly decorated interiors. Among many others. Want to treat yourself to something special? Why not take a cruise on the Oslofjord, or book a show at the new opera house on the waterfront? See more info on Oslo, and suggestions on what to see and do.
Day 2: Oslo to Risør
A string of summer towns line the southern coast on this stretch of road, while the islands and skerries of the Skagerrak are a haven for sailboats. Stop to see Edvard Munch's summer home at Åsgårdstrand; visit Tønsberg, Norway's oldest town, and the nearby island of Tjøme; make a gourmet stop in Sandefjord, the old whaling capital where the 2009 Bocuse d'Or winner Geir Skeie opened his first restaurant recently; visit the colourful village of Kragerø, the birthplace of illustrator Theodor Kittelsen (his childhood home is now a museum); before ending the day in Risør, famed for its white wooden buildings and its wooden boat festival (every year in early August).
Day 3: Risør to Kristiansand
Take the short boat crossing to Lyngør – cars are not allowed on the picturesque island, which is one of the best preserved village communities of its kind in Europe; or stop and explore Tvedestrand, another typical summer town idyll, known for its second-hand bookshops, and Arendal – its old town hall is one of the largest wooden buildings in Norway. If you are travelling with children a stop at Kristiansand Zoo is a must – it is one of Norway's most popular attractions. Or visit Kristiansand itself. Highlights in the centre include Posebyen and the Christiansholm Fortress, while just outside of town the unusual Canon Museum and Gimle Gård, a manor house dating from the 19th century, are also worth a visit.
Day 4: Kristiansand to Stavanger
After a short detour to see Lindesnes Lighthouse, Norway's southernmost point, today you will follow Rv44 from Flekkefjord, once a thriving harbour, all the way to Stavanger. This scenic drive, part of the North Sea Road (Nordsjøvegen), makes an excellent alternative to the E39 a few kilometres to the east. Suggested stops along the way include under underwater restaurant, the old cotter's house at Helleren, sheltered under a 100-metre long and 15-metre deep rocky outcrop; the picturesque village of Sogndalstrand (you can catch salmon in the river there); and Orrestranda, Norway's longest sand beach, on Jæren – the perfect place to watch the sun set over the North Sea.
Day 5: Stavanger
Stavanger, the oil capital of Norway, has much to offer visitors. This dynamic, cosmopolitan town has a number of interesting museums – you will not be able to see them all in a day, but do make sure you visit the fascinating Norwegian Petroleum Museum by the harbour, and the Cannery Museum in the pretty Old Town. If you like art the Rogaland Art Museum is worth a visit too. Stavanger also boasts one of the best restaurant scenes in Norway, and exciting shopping is available in both Stavanger and nearby Sandnes.
Day 6: Lysefjord and Preikestolen/Dalen
Try and get up early to take the hike to Preikestolen, one of Norway's most popular walks (allow 2.5 hours to get to the top, and 1.5 hours to come back), then get on the ferry to Lysebotn at the very end of the beautiful, rugged Lysefjord. From here a little road climbs its way up the mountain via several hairpin bends to Sirdal. Note that the road is only open in summer, and the boat trip along Lysefjord requires advance booking. It is then a two-hour drive to Dalen, where you can stay overnight at the elegant Dalen Hotel, one of Norway's historic wooden hotels.
Day 7: Telemark and back to Oslo
Spend your last day exploring the county of Telemark on your way back to Oslo. The most obvious route is to follow the E134, and recommended stops along the way include Morgedal, the birthplace of modern skiing as a sport, and home to the Norwegian Ski Museum; Seljordsvannet Lake and Seljordsormen, Norway's answer to the Loch Ness monster; and Heddal Stave Church, the country's largest stave church, which is also one of its best preserved. If you like music, note the Country Festival in Seljord in late July, and the famous Notodden Blues Festival in August. From Heddal, side excursions on the Telemark Canal (Norway's longest man-made waterway) and to Rjukan, where one of the most heroic acts of resistance again Nazi occupation took place in World War II, are other possibilities. The drive back to Oslo takes you through Kongsberg and Drammen.